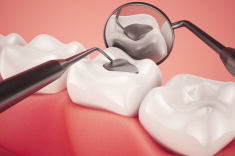 The newest invisible dental fillings offer a number of advantages over traditional amalgam dental fillings. These fillings are a restorative dental treatment alternative that is preferred by most (if not all) patients today because they offer the most natural looking mouth possible. They care custom-colored so that they match the natural shade of the remaining teeth making them nearly invisible to you and anyone else when applied on to the tooth structure.
Because of their many advantages and benefits, the invisible dental fillings are used as replacement for traditional silver or gold filling solutions. They do not only look beautiful but are as strong and durable as any dental filling solution ever offered. These fillings are actually specially formulated to be high-strength so that you can enjoy their benefits for life. They bond to the tooth structure strongly so they do not fall easily which is a common issue in amalgam fullings. They provide support that helps prevent breakage and insulating the tooth from excessive temperature changes.
To find out more about the benefits and advantages of newest dental fillings, contact Oyster Point Dentistry.