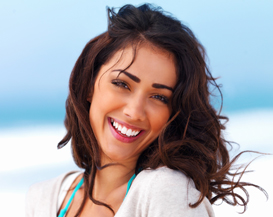 If your teen needs braces, Invisalign might be the perfect solution. Invisalign is a comfortable, affordable and effective alternative to braces. Best of all, Invisalign is invisible, so your teen doesn't have to worry about ugly braces. Using clear aligners, Invisalign is removable so your teen can take care of their teeth the way they have learned.

While Invisalign is not right for everyone, Oyster Point Dentistry can help determine if they are right for your teen. Invisalign can help with crowded teeth, spaced or crowded teeth and misaligned teeth. Similar to braces in cost, there are many advantages to Invisallign over braces.

Because there are no brackets or wires, your teen will have the self confidence they need from a healthy smile. With invisalign the aligners are removable. You can eat any foods and brushing and flossing are easier as well. The smooth plastic is more comfortable on your cheeks and gums than metal braces. And there are less office visits than with braces.

Contact Oyster Point Dental to see if Invisalign is right for your teen.