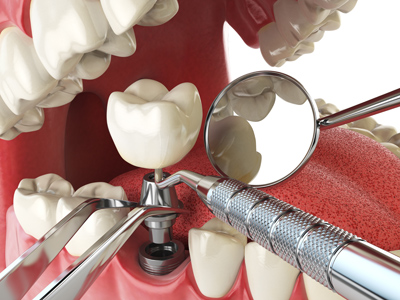 Whether it's a tooth decay, an injury, or a gum disease, dental implants are the most convenient and permanent solution there is to replace missing teeth. The process of placing a dental implant is to replace the root of the tooth with a titanium screw, and placing a ceramic cap or tooth on top. It is securely screwed into the jawbone so it will stay firm and immovable.
Dental implants are far more tough and durable than other dental replacements such as dentures. In fact, tooth implants will last a lifetime with the proper care. As long as the patient observes proper dental hygiene and maintains his/her dental health, the implants will last for a lifetime. In addition, dental implants most closely resemble the natural teeth so others cannot tell the difference.
Missing teeth can be an aesthetic, comfort issue which can create overall dental health concerns. It is recommended that it is addressed if- and as soon as- possible. Although dental implants are more expensive than other dental replacement options, they offer a cost-effective and far more comfortable and convenient solution to your missing teeth which last a lifetime.
Contact Oyster Point Dentistry to find out more about dental implant treatment.