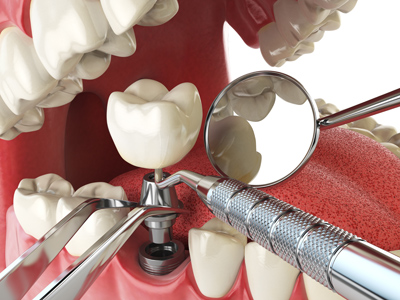 In order to have a fantastic first impression, it is important that you smile with confidence. A perfect smile goes with a white and healthy set of teeth. The absence of a tooth or multiple teeth will pose problems for the basic acts of chewing and speaking. This also effects self-confidence. And having one tooth will eventually affect other teeth in your mouth because they will loosen to move around without the other tooth holding them in place. The good news is that it is possible to resolve and replace this problem.
With today's dental advancement, you have multiple options to address the issues of missing teeth:
A dental implant is a procedure through surgery in which a replacement tooth root is placed and fused with the jawbone. This will look natural and have a long lifespan. It is cost-effective in the long term.
A fixed bridge that bridges the gap between one or more missing teeth. This bridge once fixed will look like natural teeth. However, several appointments with the dentist are needed.
A resin-retained dental bridge that attaches into the neighboring teeth on each side. This costs less and does not endure much pressure.
Clearly the path to dental health and overall personal wellbeing regarding missing teeth is to consult your dentist. He or she will ensure that you will find the perfect treatment for you and your specific dental condition. Prepare yourself for the joy of a beautiful smile with and a return to a fully functional and complete dental state. For more information regarding how to address your missing teeth, contact Oyster Point Dentistry.