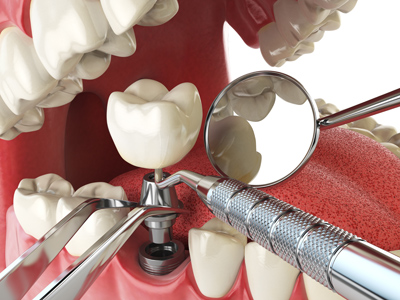 Let us face it, no matter how effective our dental hygiene regiment is, time takes its toll on all of our teeth. No matter how good we are at brushing and flossing, we are eventually going to lose teeth. While we cannot stop changes as we grow old, we can address those changes effectively with modern dental technology. The dental implants that we provide here in Hampton, VA put an end to the deficits we all suffer when losing teeth. Dental implants provide tooth replacements that both look and feel natural at all times: while you eat, smile, and talk. Serving exactly like natural teeth, these implants are often considered better options when compared to conventional bridges and dentures.
Dental implants revive not just one's natural smile but also one's oral health. These implants are synthetic roots in the shape of a post and are usually made of titanium so they become compatible with the human bone. They are surgically implanted into the jawbones. While the dental implants will typically last a lifetime it is important for patients to care for them as they do their natural teeth.
To find out more about this tooth restoration treatment, consult a dentist at Oyster Point Dentistry.