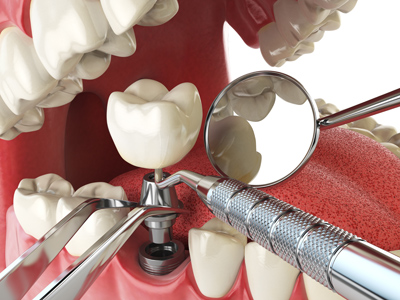 Due to the annoying discomforts that are experienced with traditional dentures, many now choose dental implants as a replacement for missing teeth. The titanium root is embedded in the bone to serve as an orthodontic anchor. At the top of the implant, a porcelain crowned tooth is attached.
Replacing a missing tooth is possible with a single dental implant or, for multiple missing teeth, they can be replaced with multiple dental implants. When you lose a tooth, the void will continue to diminish and deteriorate, filling the gap is necessary for many reasons, not the least of which are function, self-confidence, and aesthetics. Dental implants are recommended to eliminate tooth and gum decay caused by missing teeth. Additionally, this treatment option looks essentially identical to natural teeth.
Don't settle on conventional dentures that can compromise both aesthetics and comfort. In lieu of classic dentures, dental implants offers long lasting solutions without sacrificing other important aspects. To find out if you are a candidate for dental implant treatment, contact Oyster Point Dentistry for a consultation.
Comments (0)
|
Trackbacks (0)
|
Permalink
|
|