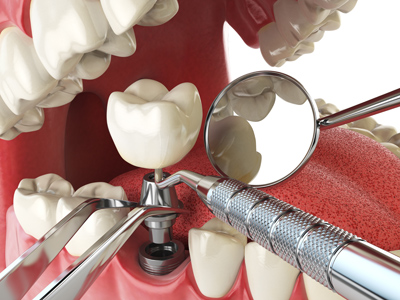 Despite developments in dental care, many people still suffer from tooth loss as a result of tooth decay, periodontal disease, injury or other reasons. For the past few years, the only treatment options available for people with missing teeth problems were bridges and dentures. Fortunately, today dental implants are available.
Dental implants in Yorktown, VA are used to replace and restore your lost teeth. These implants are artificially made to match your natural teeth so that it will look, feel, fit, and function like natural teeth. Dental bridges and dentures only last five to seven years. With proper care, they may be able to last up to ten years, but they may need to be replaced at some point. As a result, those costs can add up over time. Dental implants can last a lifetime when properly placed, cared for, and maintained. They are made with titanium which makes them strong and durable. Dental implants are the only dental restoration option that preserves natural bone and stimulates bone growth which can prevent bone loss and deterioration of your jaw bone. That is why dental implants are your best long-term and cost-effective solution for teeth replacement.
With dental implant treatment, there is no need to feel uncomfortable in public, or worry that missing teeth will interfere with your daily activities. No more worries that your dentures might slip or fall out whenever you are eating, smiling and speaking. Dental implants will give back your smile and help you feel more confident about yourself.
Consult your dentist if you can be a candidate for dental implant. For more details, contact Oyster Point Dentistry.
Comments (0)
|
Trackbacks (0)
|
Permalink
|
|