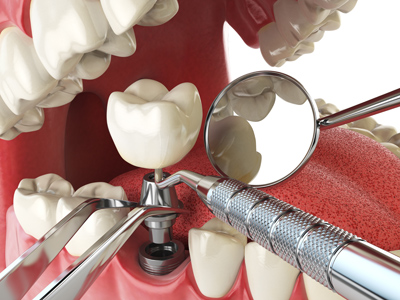 Most people believe that a healthy smile is one of the first and most important things we notice about a person. Healthy teeth are the key to an attractive smile. However, many people hide their smiles because they are self-conscious about missing teeth. If you are missing one or more teeth, then dental implants may be the best possible replacement solution worth discussing during your next dental check-up.
Dental implants in Yorktown, VA consist of a small, titanium screw that replaces the root portion of a missing natural tooth. The screw is secured in the jaw bone, which provides a base for the replacement tooth. Dental implants are anchored there and become part of your bone structure having no impact on the surrounding teeth. This makes implants perfectly safe and healthy. There are a number of benefits associated with dental implants such as enhancing your appearance and speech, improving your ability to chew and enjoy food, protecting your teeth and jawbone from bone loss, and better overall oral health. Dental implants act like natural teeth, and with proper care and regular check-ups they can last a lifetime. Therefore, if your smile is healthy, the rest of your body and bones can be healthy too.
When you are confident, you smile more. Replacing missing teeth and addressing oral health issues through dental implant treatments can give the boost you need to take the next step in your relationship or career path.
If you are interested in having a dental implant, contact Oyster Point Dentistry.
Comments (0)
|
Trackbacks (0)
|
Permalink
|
|