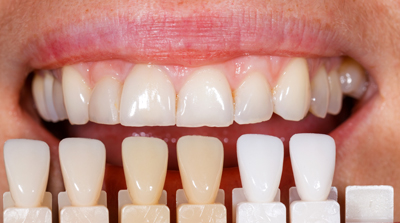 A perfect smile is timeless. It never fades. A smile is something you will be proud to show to the world and confidently show off your pearly white teeth. The smile that you wear reflects your emotions, self-confidence and your passion. Pearly white and perfectly aligned teeth are a reality for you no matter what you might think. One potential solution for you to consider are Dental Veneers.
In the dental world, veneers are thin like shell coatings made from resins or dental porcelains that are applied to the surfaces of front teeth. This is done for aesthetic reasons to make it more beautiful, shapely and functions properly. Before it is bonded to your teeth, veneers are normally fabricated in the dental laboratory. The dentist normally performs detailed clinical examination especially the teeth which will get veneers. This will ensure that the teeth are healthy and free of cavities. And in the case of chipped and stained teeth, veneers are extremely useful. There is a tooth whitening procedure for discolorations that with the help of veneers it is hidden and will restore your teeth that have developed with stains. Teeth veneers will also restore the shape and the structure of broken, crooked and fractured teeth.
In any ideal smile, all your front teeth are visible. In case of gaps between your adjacent teeth, with the help of veneers it will restore the gap. As such, porcelain veneers provide big help in attaining an ideal smile. Everyone aspires for a beautiful and shapely smile with whiter than white teeth and no oral health problems. You do not have to live with your stained and misaligned teeth because with dental veneers you will transform your smile and get a brand new, lovely and gorgeous smile.
For more tips on Veneers, contact Oyster Point Dentistry.
Comments (0)
|
Trackbacks (0)
|
Permalink
|
|