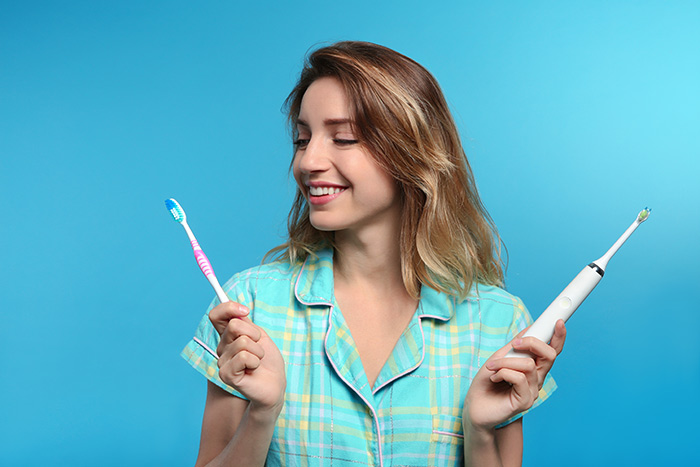 Toothbrushes play a critical role in our daily health care routine. It is important to establish and maintain effective daily oral care. Toothbrushes now come in two forms - the traditional manual toothbrushes and the electric toothbrushes. If you are wondering which type is best to use, lets discuss the pros and cons of both.
Pros of the Electric Toothbrush

Convenient to use.
Renders thorough tooth cleaning with minimal work
It is equipped with a timer function to make sure you follow the 2-minute brushing rule.
Fun to use, even kids have fun using them.
Cons of the Electric Toothbrush

Battery needs to be charged or replaced.
More expensive than a manual toothbrush.
They are bulky.
They are fragile so they are at risk during travel.
Pros of the Manual Toothbrush
Following a proper brushing technique it can definitely clean your teeth thoroughly.
Various options for style, color and bristle type.
No need to charge or use batteries.
Easy to bring when you travel.
Affordable
Cons of the Manual Toothbrush
It requires user to manually work on brushing the teeth.
If brushing technique is not properly performed, the cleaning can be ineffective.
Since it has no timer, you need to manually time your brushing.
Ultimately it does not matter which style of toothbrush to use. What matters is how you use it. Make sure to follow the proper brushing technique and the 2-minute brushing rule. Then, brush at least twice a day to ensure overall oral hygiene. Decide what toothbrush you want to use based on the above-mentioned advantages and disadvantages of each type.
For more oral care tips, contact Oyster Point Dentistry.
Comments (0)
|
Trackbacks (0)
|
Permalink
|
|