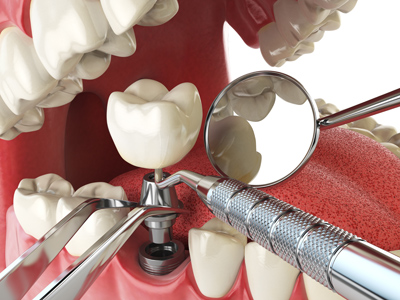 Dental implants are one of the single most effective treatment options for missing teeth for several reasons that we'll cover here today:
Your Body Systematically Accepts the Artificial Tooth as a Natural Body Component

When a tooth is removed, the adjacent bone tends to collapse and decay after a while. Oral implants are the closest thing that can perfectly resemble and replace real teeth. A dental implant is permanently set within your jaw's bone structure. The bone structure actually grows around and incorporates the implant as a new part of the jaw's structure.

They Do Not Decay

Since implants are made of sturdy titanium while the crown is screwed into the implant and is composed of metal and/or ceramic, they are unlikely to decay. They are not susceptible to corrosion and they are tough against bacteria and acids in the mouth. However, it is still necessary to take care of them like the way we take care of our natural teeth. This is because they are prone to gum diseases and bone loss around the implant can take place when it is not thoroughly cleaned.

They Work Well With Other Traditional Treatments

Traditional dentures can get loose eventually. This because the gums and bones that support it resorb over the years.
Implants can help prevent resorption of the bones at the sites to support the denture. Sometimes, implants serve as an anchor to keep the denture in place and improve stability.
If you think this dental treatment is right for you, contact Oyster Point Dentistry. We can provide you more elaborate information about dental implants and we will verify whether the above-mentioned procedure is the best option for your dental condition.
Comments (0)
|
Trackbacks (0)
|
Permalink
|
|