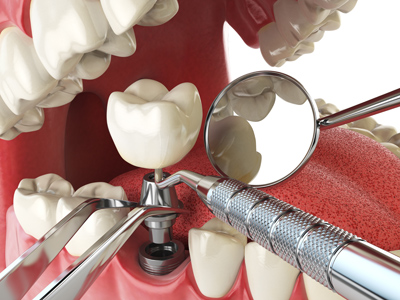 Your Dental Implants will last a lifetime, that is, if you take care of them. Here are some common sense care tips for anyone who elects dental implants to replace natural teeth:
Avoid Contact With the Implant
Any dental device attached to your mouth would feel strange. You might be tempted to touch but at any cost, prevent yourself from getting in contact with that area for the first few days.
After surgery, it's expected that your gums will be more sensitive than ever due to swelling and bleeding around the area of the implant. Know that this is normal. Just make sure to prevent yourself from tampering that area of your mouth to let healing process takes place smoothly.
Get Back to Brushing As Soon As Possible
While dentists recommend to temporarily stop brushing and flossing for few days after your implant procedure, as soon as your mouth are fully healed, you should get back into proper oral hygiene habits right away. Do not put your mouth at risk by going back to your old habit of not brushing or flossing.
You can let your mouth rest for a day or two post-surgery, but then get right back into brushing and flossing every day when it is completely healed.
Avoid Some Foods and Beverages That Can Damage The Implants
For first few days, you should be on strict soft diet such as jello, pudding, and oatmeal. And try to use the other side of your mouth solely when chewing your food. If you take water and milk, careful not to swish those liquid at the affected side of the mouth as this can defer the healing process too. Definitely, you can't still gnaw on hard candies or any rough meals. In addition, it's important avoid taking overly hot liquids or meals.
For more tips on how to properly care for your implants or in case you have other dental concerns, contact Oyster Point Dentistry.
Comments (0)
|
Trackbacks (0)
|
Permalink
|
|