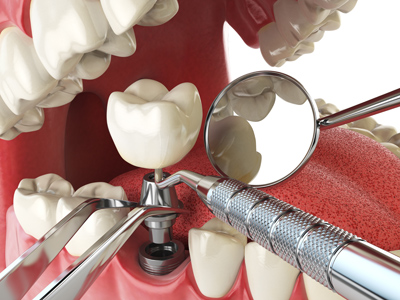 A missing tooth (or missing teeth) impacts your appearance, your mouth's functionality, and your confidence. Today's modern dentistry offers a safe and affordable path to solving all these problems. Dental implant systems are turning lives around and they can turn yours around too!
Dental implant treatment is the ideal solution to replace a missing tooth or multiple teeth. The implant contains a tiny, titanium screw that will serve as an artificial root for a synthetic, porcelain tooth. The screw is fixed in the jaw bone and is simply the most dependably safe tooth replacement treatment offered today. The permanent nature of implants revolves around the body's ability to accept the implant as a welcome part of your bone structure. It will not affect the surrounding teeth.
Many are now opting for this dental procedure to enhance their appearance, improve their speech and comfort while eating. What's great with dental implant is that they will last for a lifetime. Regarding care of the implants, nothing special is required other than normal oral hygiene and regular visits to your dentist here in Newport News, VA.
Contact Oyster Point Dentistry (Hampton and Newport News Va) to find out more about dental implants.