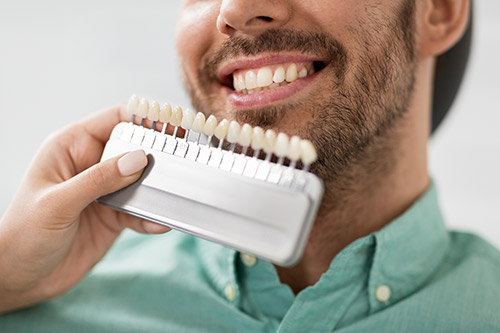 Cosmetic dental procedures like veneers will change the shade, shape, and beauty of your teeth. Crown lengthening or gum lift will expose more of the tooth structure to improve the proportion of the teeth.
Porcelain dental veneers are resistant and long lasting. Veneers will last for a long time. The materials used today in cosmetic dentistry are of the highest quality and last much longer than veneers that are done years ago. These are bonded to your natural tooth structure. It means that you will enjoy the results for many years. No worry about stains or discoloration because veneers will maintain their original shine. Veneers are custom-made to fix imperfections. You will get dental veneers on one or all of your teeth. Getting veneers only requires two appointments with the dentist. For those who are struggling with gaps, spacing and discoloration, end up having a stunning fuller smile done with porcelain dental veneers. The final step in the veneer process is the contour and the polish. During this step, you will get the teeth to look and feel exactly like you want. You will slightly adjust the bite and smooth out the rough edges. Now the patient's smile is straight, bright, and beautiful. Rejuvenate your smile with dental veneers and restore your function and health.
Nothing beats a confident smile. A brighter smile will make all the difference. Patient is now confident with her consistent teeth that light up any room. A smile makeover will change your life. You will love your new beautiful dazzling smile and will be proud to show it off. Transform your smile, transform your confidence!
If you need Dental Veneers done on your teeth, contact Oyster Point Dental.